OsixthreeO uses the WordPress Customizer to bring a ton of control into the admin. Color and font options enable branding the look and feel of your site. Sidebar layout, header layout, site width and flexible Custom Header options allow anyone to create a unique website.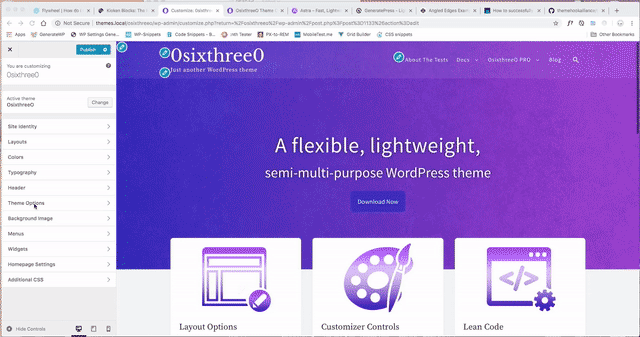 Site Width
Select "Full Width" to extend the outer edges of your site to fill the whole browser. Select "Contained" to keep the site contained to 1280 pixels within the viewport. Selecting "Contained" will also expose a width slider control if a different width is desired.
Header
Orient your header horizontally with your logo (or site title) on the left and your menu on the right. Or have them centered. Need more breathing room up there? Use the slider to adjust the top and bottom padding.
Sidebars
Choose where (or if) a sidebar appears on the various WordPress templates. Variations include no sidebar, left sidebar, right sidebar, narrow with no sidebar.
Templates
In addition to setting the sidebar display for each WordPress template, OsixthreeO provides a 'Blank' page template and a 'FullBleed' template for use with page builders or for creating landing pages.
OsixthreeO Xtras AddOn
With the OsixthreeO Xtras add-on these settings can be overridden for per-page granular control of your sidebar displays.